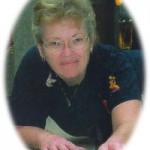 A local breast cancer survivor, Meredith Cosburn was encouraged by a friend and sister survivor in Toronto, to do what she had done to help with her own recovery—join a dragon boat team. The closest team was in Cobourg so Meredith got the idea to start a team here in the Peterborough area. As it happened, Len Minty, an experienced and enthusiastic dragon boat paddler himself had just retired from teaching in Toronto and had returned to his roots in Peterborough. He jumped at the chance to help and volunteered to be the team's dragon boat coach. Meredith had the passion and perseverance to get a group of breast cancer survivors together who shared a common interest, being part of a dragon boat team. A few years later, she initiated the first dragon boat festival for the Peterborough community.
Another milestone was getting a dragon boat. Dr.J. Rowsom, a surgeon at The Medical Centre in Peterborough, was instrumental in this. He and three other doctors Dr. R. Chenoweth, Dr. J. Scott and the late Dr. R. Jaroszonek, donated $1,000 each for a down payment towards a dragon boat for the team. A story about the team published in the Peterborough Examiner sparked enough interest for Liberty Mutual to provide the rest of the money needed to pay for a dragon boat built by Glenn Fallis of Voyageur Canoe.
"This is a good focal point for breast cancer survivors. You combine the physical fitness advantages, the overall wellness and the rise in awareness for this and it's a great thing. Quote from "~ Dr. John Rowsom, surgeon at The Medical Centre, Peterborough~
During the winter months, thanks to the generosity of the YMCA, Len Minty arranged for the team to start practising at the side of the pool using special, smaller practice paddles. The team's goal was to prepare for the real thing—dragon boat competitions during the summer and fall in Pickering and the Toronto area.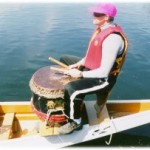 "Dragon boat racing is the avenue breast cancer survivors have chosen to get support and to support themselves. It's a curious choice, but it's really growing." ~Quote from Len Minty, Former Survivors Abreast Coach~
In the beginning, the Draggin' Dawgs dragon boat team was a supporter team made up of spouses, sons, daughters & friends of Survivors Abreast team members who had been touched by breast cancer. Susan Miller, was inspired by her friend and breast cancer survivor, Lee Anne Willshaw, to be captain of the team for several years, this dedicated group raced in Peterborough's festival and sometimes travelled to out-of-town festivals with Survivors Abreast, cheering them on from the shore.