The quilt was the dream of a team member, Diane Southorn, who was an accomplished quilter as well as an enthusiastic paddler. In 2005 Diane took it as a personal challenge to produce a Survivors Abreast quilt. Diane rounded up the quilters on our team, Marg Higgins, Myra Hirschberg, Bonnie McTiernan and Lynne Porter, to organize workshops and encourage each member to design a square for a team quilt.
Sadly, Diane did not get to see the completed quilt as she died in May 2006. She did get to help many team members create their own individual squares. Each one tells a story about that woman's journey with breast cancer and/or dragon boating.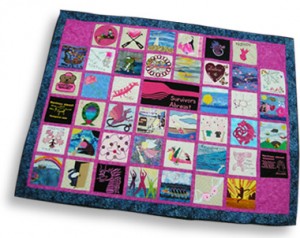 The Survivors Abreast quilt has done just what Diane planned, it inspired many as it is enjoyed by many at the Survivors Abreast Breast Assessment Centre at the Peterborough Regional Health Centre. The beautiful quilt is the first thing patients see as they enter the facility. Diane would be so proud!
Read our Survivors Stories
View our Loved & Remembered